The charts you can make on InsulinWorx are very helpful. The dosing tables allow you to design a regimen that fits your patient. The nuts and bolts of designing an insulin regimen are found in Understanding BASAL-BOLUS. If you have not dose so, please read that information before deciding on your particular insulin regimen. The 3 basic components of a BASAL-BOLUS regimen include:
1. BASAL Insulin: Dosed to meet fasting insulin needs to utilize glucose produced by the body.
2. BOLUS Insulin: Usually given premeal to prevent hyperglycemia by utilizing the glucose as it is absorbed from the meal.
3. CORRECTION: A ratio of insulin given based on glucose level given to fix hyperglycemic excursions.
Carbohydrate counting
Set Doses
Mixed Insulin Dosing
Carbohydrate Counting
Choosing the Patient
The patient or their caregiver should be willing and have the ability to:
Count carbohydrates
Perform simple calculations
Dose insulin multiple times per day
Test >3-4 times/day or use a continuous glucose monitor
Think critically. This regimen allows for flexibility in eating schedule, however patient requires some degree of critical thinking and does not lend to either the inattentive or someone who is easily confused.
Carbohydrate counting is the most physiologic insulin regimen and if closely followed, allows for tight control while minimizing hypoglycemia risk. This is because food is matched with insulin with a carb-insulin ratio. The patient must think like a pancreas and give insulin based on proportional food intake.
Benefits
Less variability or less risk for hypo or hyperglycemia
Versatility. Patients have the flexibility to skip a meal & vary their carb content at meals and snacks
For help determining insulin doses, see Navigating Insulin Math.
The InsulinWorx dosing tables allow for both single or multiple carb-ratios: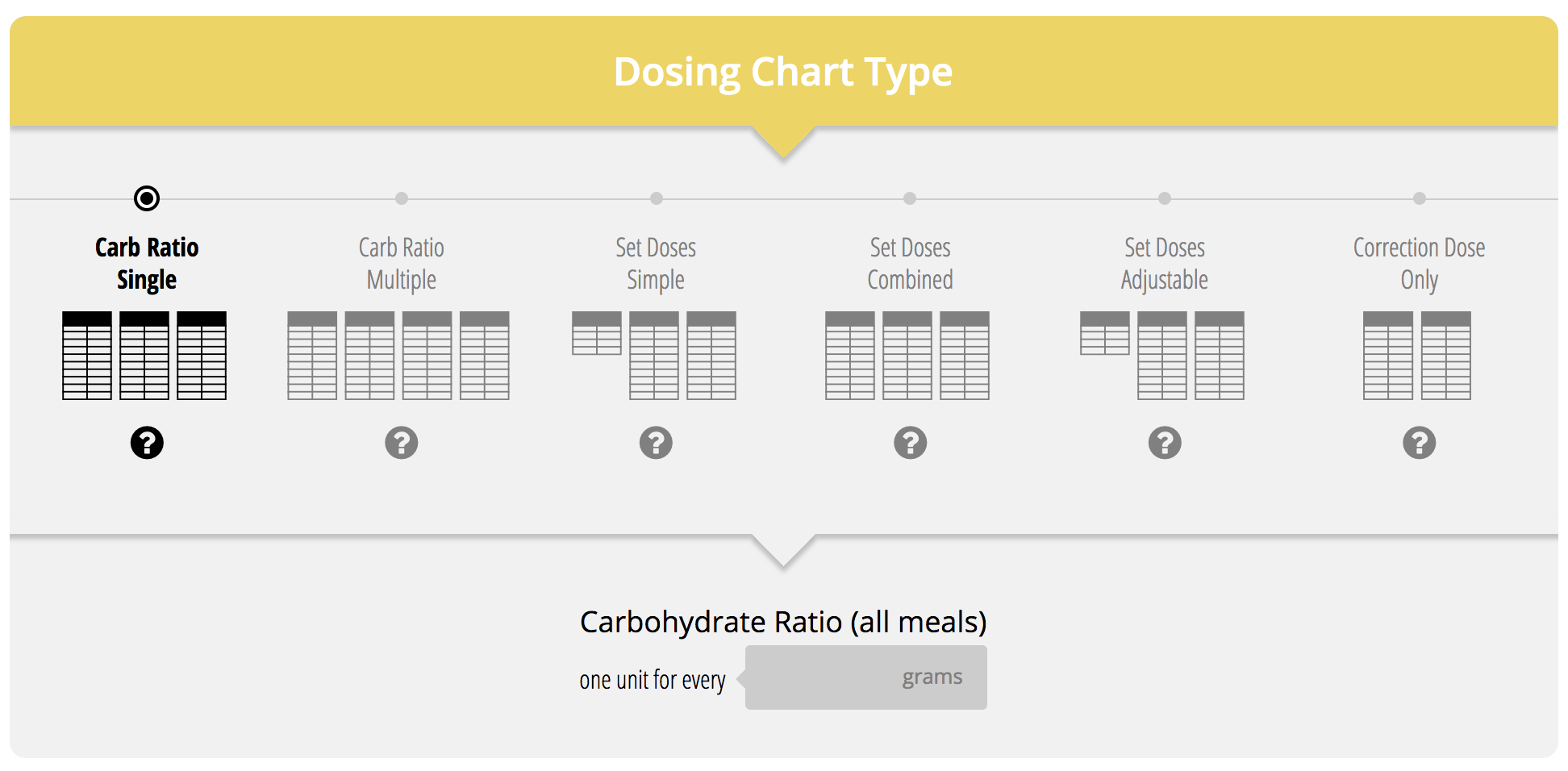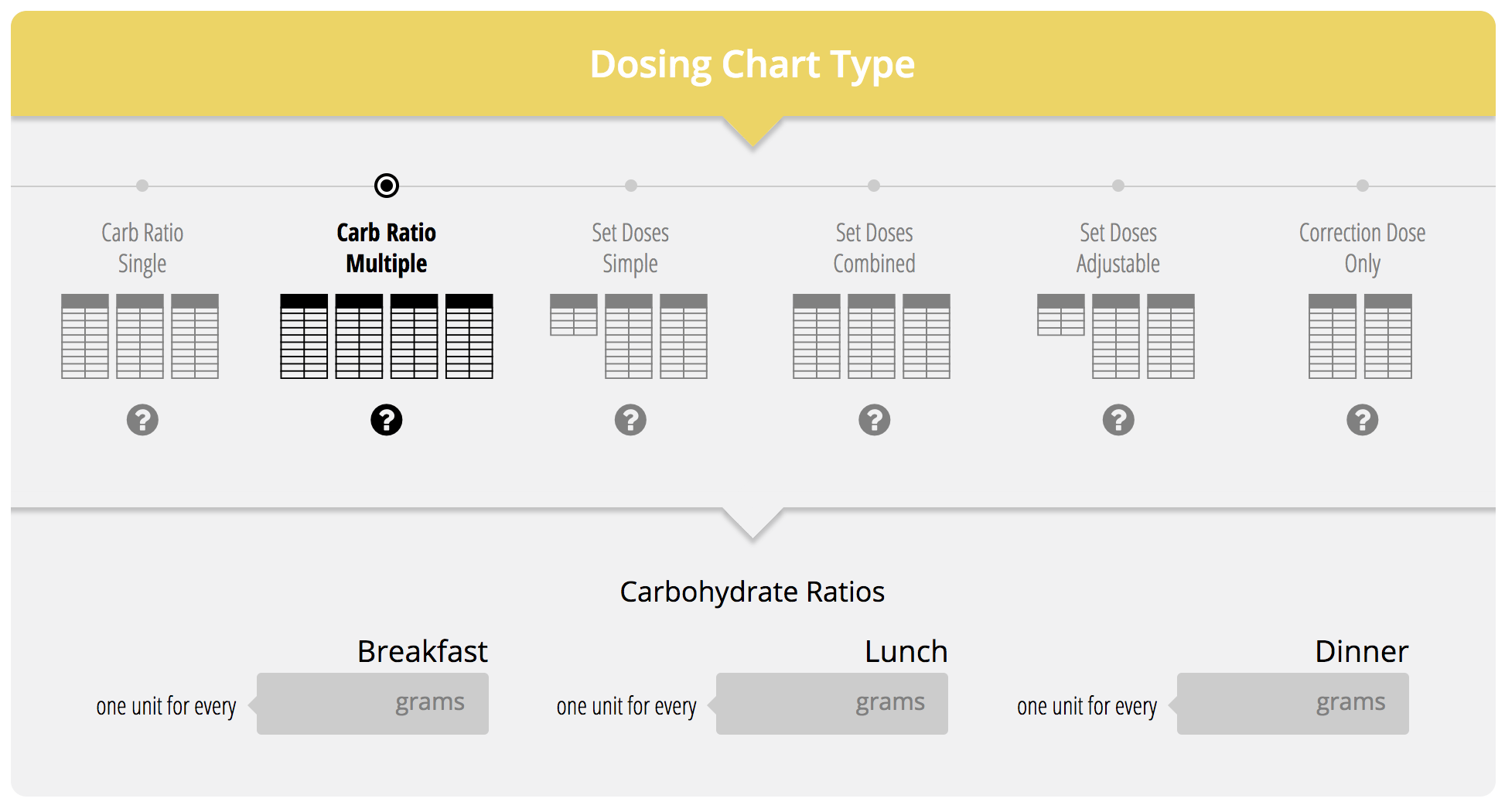 Set Dosing
Choosing the Patient
Set doses are most appropriate for those who cannot or who are unlikely to count carb's. It is very good for the elderly patient who eats oatmeal for breakfast, a peanut butter sandwich for lunch and meat and potatoes for "supper". Many older patients often don't vary their meal carb content much and this type of regimen makes it simple and reproducible and avoids making calculations mistakes.
Set dosing is best suited for the compliant, because it requires testing & multiple daily injections. If compliance is more of an issue, you may consider using a mixed insulin regimen like the 70/30 or 75/25 regimens which require only two shots per day; however set doses are quite effective for a large proportion of patients and can improve control while reducing hypoglycemia risk that you may get with mixed insulin regimens.
Like the Carb-Counting regimen, the Set Dose Regimens consists of a BASAL insulin and a rapid acting BOLUS insulin taken before mealtimes and bed. However, instead of counting carbs and adjusting the dose, patients take a preset dose at each meal with their typical carb intake. Additionally, they will use their High Glucose Correction Ratio (HGC-R) to fix any glucose excursions as they occur.
There are 3 SET DOSING types of charts available on InsulinWorx Dosing Tables:
Set doses- Simple: The set doses are set by you and do not vary from day to day. They are based on typical meal sizes. For example, a patient could have 5 units for breakfast, 12 for lunch and 9 for dinner if they eat that way on a consistent basis. This chart will require math. The patient needs to add his/her set dose to the correction dose.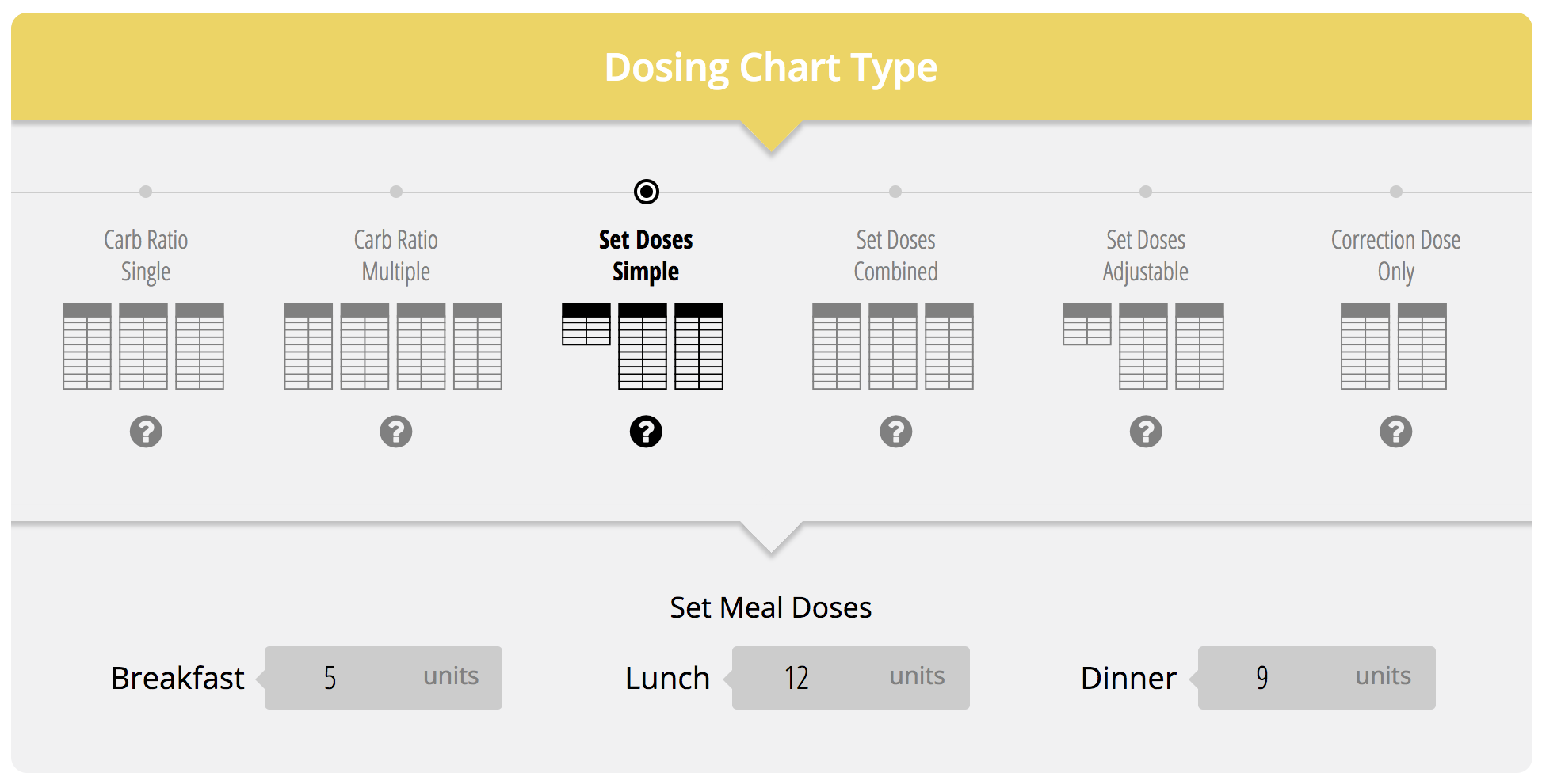 Set Doses- Adjustable: This chart is used If carbohydrate content varies significantly from meal to meal and you have a more sophisticated patient. You can make set doses for a SMALL, MEDIUM or LARGE meal, which allows some discretion on the part of the patient. For example 3, 6, or 9 units based on meal size...determined by the patient. Patients get good at estimating how much they will need. Again it requires math. The patient must add the set dose to the correction dose.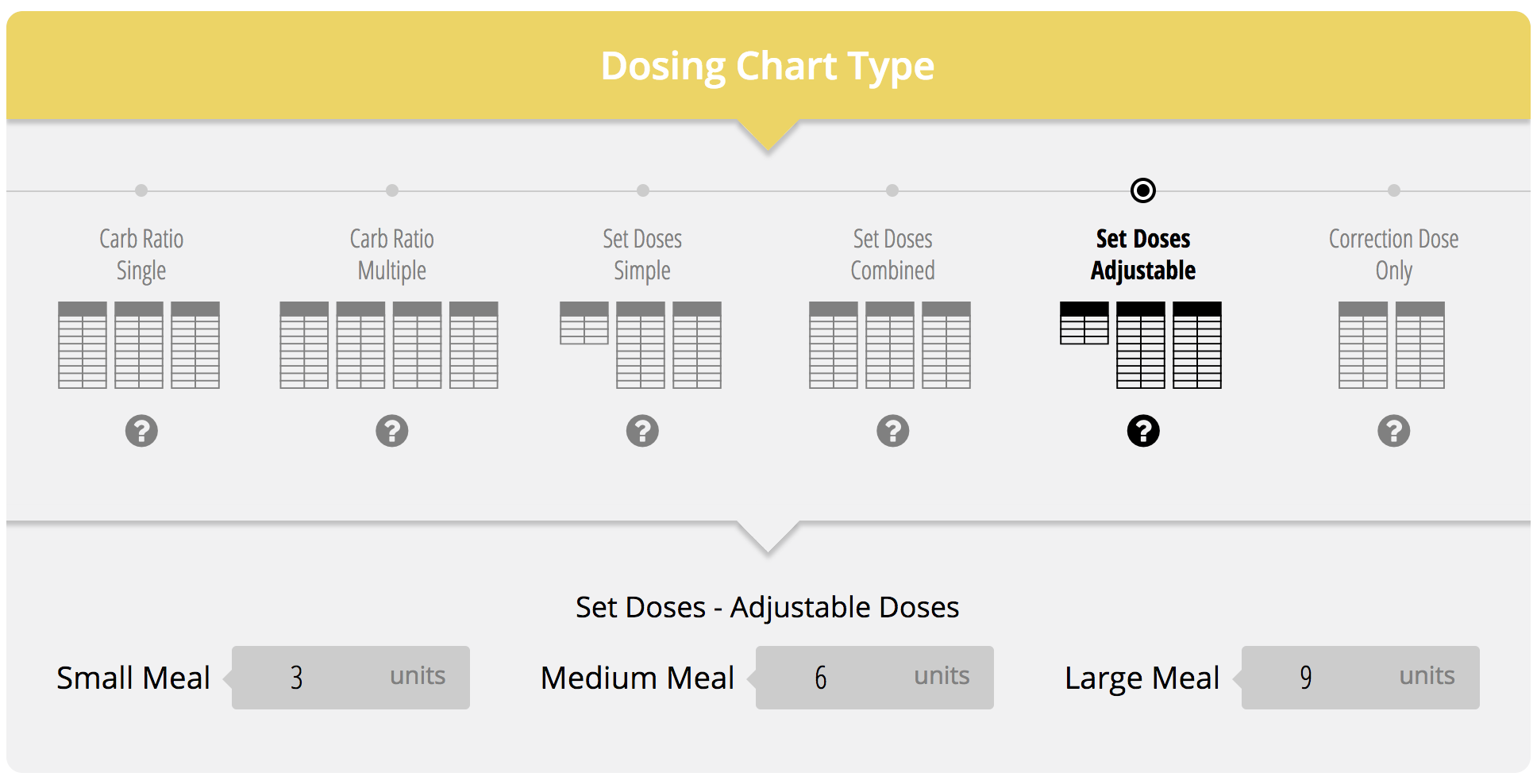 Set Dosing- Combined: This chart is the same as the Set Dose-Simple chart, however the correction and set doses are combined. No math needed here. Designed for those who are older or less sophisticated, who don't understand how to vary doses and have a hard time with addition. They simply test BG and look at the chart for the dose.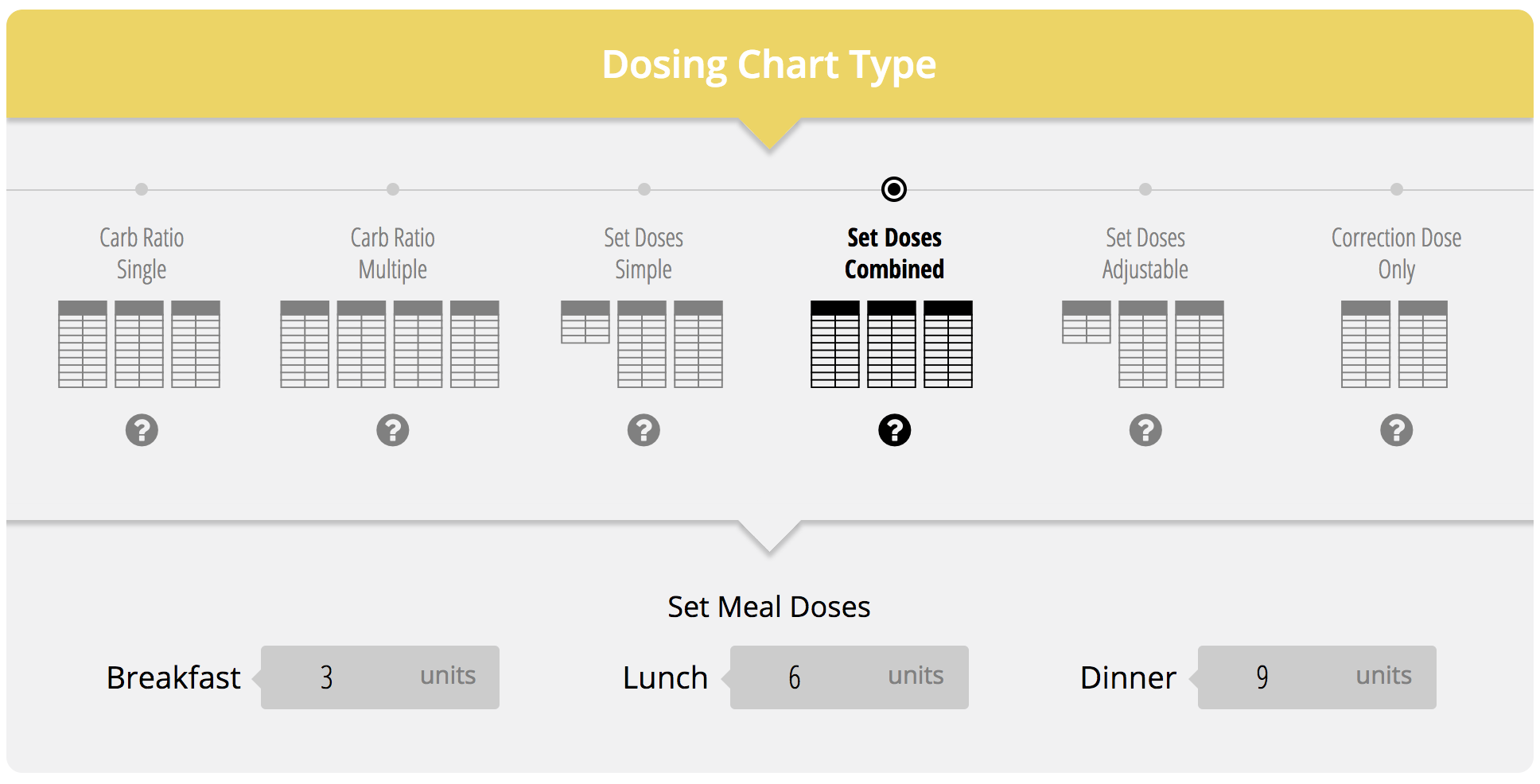 Teaching Points with SET DOSE charts:
You must emphasize consistency of testing BG and taking the injections to prevent high blood sugars as well as eating similar sized meals.
Bolus dosing of the rapid acting insulin is usually done right before the meal. Tell them when eating at restaurants they must wait for their meal to arrive before taking their insulin to avoid dosing too soon and causing hypoglycemia.
The table is no good if the patient does not have it. Instruct patients to put their dosing table in their meter or they can take a picture of it with a smartphone to have it with them on the go.
Additional Points to Consider:
Understand that while set doses are much simpler, you will have more glucose variability related to the variable carbohydrate intake at meals. Also, when using the Set Doses-combined chart (meal+HGC), you need to point out to your patient to use the "bedtime/no meal" correction dose (pic) when no meal is taken.

All the above tables are helpful. You will find that some patients 'don't get' one dosing table versus another. With the Insulinworx dosing tables you have the option to quickly change the table type on the fly, show it to the patient and determine if that kind of chart "worx" best for them.
Mixed Insulin Dosing There currently is no mixed insulin dosing table on InsulinWorx. Mixed Insulins refer to a premix of Regular (or analogue) and intermediate Insulins that can be dosed twice daily that require little titration. This type of regimen is the simplest way to give insulin to a patient that requires the least effort for who needs both basal and bolus.
Mixed Insulin Types
Brand
Regular (slow) $
Analog (fast) $$$
Forms
Novolin 70/30
x
Vials only
Novolog 70/30
x
Vials + Pens
Humulin 70/30
x
Vials + Pens
Humalog 75/25
x
Vials + Pens
Humalog 50/50
x
Vials + Pens
See pricing co-pay card spreadsheet for cost savings details
Choosing the Patient
This regimen is for the less compliant or maybe less sophisticated and who is less likely to deviate from a set meal plan.
This kind of regimen also worx well in the very insulin resistant patients who have a lower hypoglycemia risk.
Concept
The insulins consist of a rapid or fast acting insulin mixed with and intermediate acting insulin (NPH). The rapid or fast acting insulin will peak for the breakfast and dinner meals and the intermediate insulin peaks later in the day for lunch and overnight. Generally most of the insulin dose is administered at breakfast. Teaching
With this type of regimen you must emphasizes hypoglycemia prevention. You must teach your patients to eat up to their dose given earlier in the day.
They cannot skip meals or they will have hypoglycemia when the insulin starts to peak.
Additionally they may need snacks, typically in between breakfast and lunch and before bed to prevent lows.
Benefits
Simplicity. Two shots per day
Inexpensive. At walmart the Novolin 70/30 brand is 10x cheaper than current analog insulins
Drawbacks
The obvious drawbacks to this regimen are that the insulins are not as physiologic or do not peak at the same time as the glucose from a meal. They are slower and prolonged, allowing for possibly more hyperglycemia.
Tips
It might help if patients add in snacks and lower their Carb amounts at meals to effectively spreads out their Carb intake, which will handle the slow peak of NPH.
With the mixed insulins, the rapid analog acting mixtures give better physiologic action at breakfast and dinner than does Regular mixed insulins.
For help determining insulin doses, see Navigating Insulin Math.
Ready to start dosing?